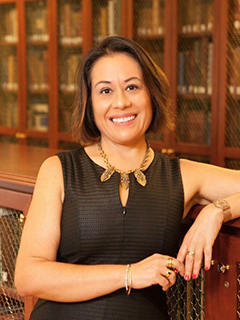 Title/Position: Research Assistant Professor
Rosario Isasi, J.D., M.P.H., is a Research Assistant Professor at the Miller School of Medicine with appointments in the Dr. John T. Macdonald Foundation Department of Human Genetics, the Institute for Bioethics and Health Policy, the John P. Hussman Institute for Human Genomics and the Interdisciplinary Stem Cell Institute. Mrs. Isasi received her law degree from the Pontifical Catholic University of Peru and her Masters of Public Health from Boston University. Mrs. Isasi was the first post-doctoral fellow at the Canadian Program on Genomics and Global Health at the Joint Centre for Bioethics, University of Toronto. She received further post-doctoral training at the Centre de Recherche en Droit Public, Université De Montréal.

She has built an international reputation as a scholar with particular expertise in the area of comparative law and ethics regarding genomics and regenerative medicine. She holds many leadership roles in major international initiatives. She is the Ethics Advisor of the European Commission's European Human Pluripotent Stem Cell Registry (hPSCREG), a member of the American Society for Human Genetics (ASHG) Task Force on "Gene Editing" and the Chair of the International Stem Cell Forum Ethics Working Party. She is also a member of the Steering Committee and leads the Governance Working Group of the International Stem Cell Banking Initiative (ISCBI).