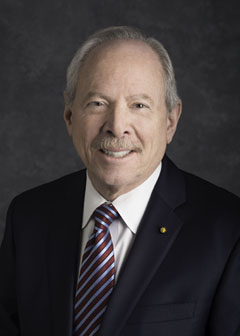 "Science and Societal Values"
Dr. Alan Leshner 
Arsht Distinguished Speaker in Ethics 
6 p.m., Wednesday, October 22
Student Activities Center
University of Miami, Coral Gables Campus
Alan I. Leshner, Ph.D.
, CEO of the American Association for the Advancement of Science and Executive Publisher of the journal 
Science
, was the Arsht Distinguished Speaker in Ethics. His topic for the early evening event was "Science and Societal Values," for which drew examples from evolution, genetics, cosmology, neuroscience and synthetic biology.
Before taking the helm at AAAS, Dr. Leshner, a psychologist, directed the National Institute on Drug Abuse and was Deputy Director and Acting Director of the National Institute of Mental Health, both at the National Institutes of Health. In 1996, President Clinton conferred the Presidential Distinguished Executive Rank Award on Dr. Leshner, the highest award in Federal service. 
Philanthropist Adrienne Arsht has made a gift to the University of Miami Ethics Programs to support several initiatives, including the Arsht Distinguished Speaker Series in Ethics. The series brings nationally and internationally recognized experts to the University of Miami for student education, faculty development and community engagement. 
For more information about the Arsht Ethics Initiatives, 
click here
.
Veritas Report