"Finding Your Voice: Living In Dante's World"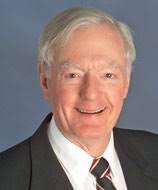 The University of Miami Ethics Programs hosted the Second Annual Arsht Distinguished Speaker presentation on October 27, 2008 with Bowen H. "Buzz" McCoy leading business ethics author. 

Bowen H. "Buzz" McCoy, a long-time leader, thinker and author in business ethics, addressed a variety of business ethics issues under the title "Finding Your Voice: Living In Dante's World." 
Mr. McCoy is president of Buzz McCoy Associates. He is the author of The Dynamics of Real Estate Capital Markets: A Practitioner's Perspective (2006) and Living into Leadership: A Journey in Ethics (2007). His "Parable of the Sadhu," originally published in the Harvard Business Review in 1983, continues to be widely used in business ethics curricula across the country. He has published 75 magazine articles on the subjects of business ethics or real estate finance.
Mr. McCoy and his family members have recently endowed the Bowen H. "Buzz" McCoy Family Center for Ethics in Society at Stanford University.
Mr. McCoy teaches courses on business ethics, as well as Christian theology and literature, at graduate business schools as well as churches and seminaries. He has served as Executive-in-Residence at both the Stanford and Notre Dame Graduate Schools of Business; and as Adjunct Professor at the Pacific School of Religion, the UCLA Anderson School of Management and the University of Southern California Graduate Real Estate Program.
Mr. McCoy was born in San Francisco and attended Stanford University, graduating with a degree in economics.  He later went on to Harvard Business School, where he received his M.B.A.
He served in Korea with the United States Army's Intelligence Branch and received the Department of Army Commendation Medal.  He began working for Morgan Stanley & Co. in 1962.  He was an owner of the firm for 20 years, and he directed its real estate finance activities for 13 years and its West Coast activities for five years.  In 1990 he retired, and he presently spends his time as a real estate and business counselor, an educator and a philanthropist.
He also serves as a Life Trustee for the Urban Land Institute and Past President of the Urban Land Foundation.  He is a Past President of the Counselors of Real Estate and a Fellow in the Royal Institute of Chartered Surveyors.  He has served on visiting committees for the Harvard University Graduate School of Design and Harvard Memorial Church.  At Stanford University he has served as President of the Stanford Alumni Association, Chairman for the Stanford University Center for Economic Policy Research, member of the Executive Committee of the Hoover Institution and co-chair of its capital campaign, and a member of the Board of Stanford Associates.  He has been awarded the Gold Spike and a 50-year service pin for volunteer activities at Stanford. He is a past Chairman of the Los Angeles Chapter of the American Red Cross, past Chairman of the Hollywood Bowl, Past Chairman of the Medical Ethics Committee at UCLA Medical Center, and member of the Advisory Council to the USC Thornton School of Music. Other organizations in which he has actively participated include Board of Directors, Y.M.C.A. of Downtown Los Angeles; Trustee, Pacific School of Religion; Harvard Business School 25th Class Reunion; The Board of Pensions, United Presbyterian Church; Advisory Committee, Appalachian Mountain Club; Executive Committee, New York's Trinity Church Center for Ethics and Corporate Policy; and Ruling Elder, The First Presbyterian Church of Greenwich, Connecticut.
Mr. McCoy has received writing awards from Harvard Business Review and Real Estate Counselor.  He has also received professional awards in real estate from the Graduate School of Business, University of Southern California, and the Real Estate Counselors, and in business ethics from the Graduate School of Business at Arizona State University.
Mr. McCoy and his wife, Barbara, have six children and six grandchildren.  They spend as much time as they can at their hiking ranch in Topanga, in the Santa Monica Mountains.
For more information about the Arsht Ethics Initiatives, click here.