"The Ethics of Privacy in an Era of Revelation."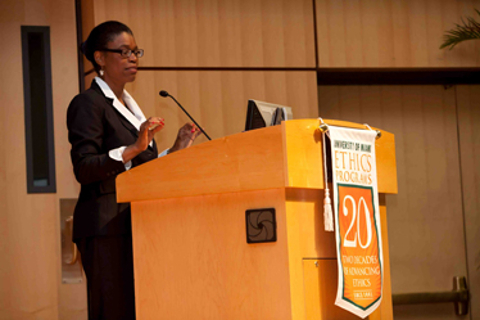 On Monday, March 28, 2011, The Arsht Distinguished Speaker Series continued with a special presentation by Prof. Anita Allen who discussed  "TheEthics of Privacy in an Era of Revelation."
Prof. Dr. Anita L. Allen is the Deputy Dean for Academic Affairs and Henry R. Silverman Professor of Law and Professor of Philosophy at the University of Pennsylvania.  She is also a Senior Fellow of the university's Bioethics Department in the School of Medicine and a member of the Graduate Group Faculty in Africana Studies.  Last year, President Obama appointed Dr. Allen to his Presidential Commission for the Study of Bioethical Issues. 
Prof. Allen is a B.A. graduate of New College, in Sarasota, Florida.  She earned her Ph.D. in Philosophy from the University of Michigan, and J.D. from Harvard Law.  She has received awards from the Ford Foundation, the American Association of University Women and the American Council for Learned Societies.  She was formerly a Law and Public Affairs Fellow at Princeton University.
Prof. Allen's work focuses on law, ethics and bioethics.  She is the author of numerous articles and several books and textbooks: Privacy Law: and Society (2010);  Why Privacy Isn't Everything: Feminist Reflections on Personal Accountability (2003); and Uneasy Access: Privacy for Women in a Free Society (1988).  Allen's book, The New Ethics: A Guided Tour of the 21st Century Moral Landscape (2004 reflects her interest in applied and everyday ethics. Her book Unpopular Privacy (2011) will be published later this year by Oxford University Press.  Allen is a former ethics columnist for the Newark Star Ledger and O Magazine, and has contributed to the dailybeast.com, politico.com and other popular blogs.  She has appeared on National Public Radio on all of the major television networks—MSNBC , CNN, CBS, NBC, ABC, and FOX.
Dr. Allen has lectured widely in the US and abroad. She has been a visiting professor at Waseda University in Tokyo, Yale Law School, and Harvard Law School.  In 2011, Dr. Allen will be a visiting professor at Tel-Aviv University in Israel. 
A mother of two, Allen currently serves as Chair of the Board of WePAC, the West Philadelphia Alliance for Children, a non-profit devoted to promoting literacy by opening libraries in elementary and secondary schools in low income communities.  She sits on the Board of the Hastings Center, a bioethics think tank, the Bazelon Center for Mental Health Law, and the Maternity Care Coalition.  She is on the advisory board of the Electronic Information Privacy Center and formerly served on the National Association for Women Lawyer's Judicial Evaluation Committee, as well as the Executive Committee of the Association for Practical and Professional Ethics. 
For more information about the Arsht Ethics Initiatives, click here.